A unique way towards optimal cellular oxygenation
In a totally natural way, increase bioavailability of oxygen, latent energy and antiradical production.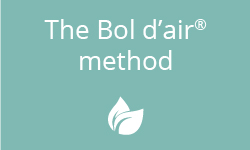 Bol d'air optimizes the body's oxygenation.
Our unique and patented system increases our ability to assimilate the oxygen we inhale, improving the quality of life.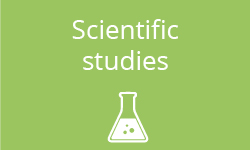 Researchers and medical specialists in the fields of physics, chemistry and molecular biology have scientifically alidated the importance of this natural method of oxygenation.
For all those seeking to preserve or restore their health capital – When the seasons change, during times of stress, allergy or pollution peaks – When the body's resistance is diminished.
A great support to counter the effects of a lack of cellular oxygenation.
Bol d'air optimizes the body's oxygenation. Since 2003, new studies, theses and works confirm the importance of this natural oxygenation method that does not create harmful free radicals.
Deficient cellular oxygenation results in chronic hypoxia and can potentially weaken the immune system and gradually deteriorate both the metabolism and overall health. Bol d'air provides a solution for the resulting cell suboxygenation (hypoxia).
Breathe more efficiently with the Bol d'air® solution
Age, stress, inactivity, illness and various types of pollution diminish cellular oxygenation. It is not easy to breathe efficiently in our modern world. And yet, the right level of oxygenation is essential for good health. Bol d'air® optimizes the oxygenation of the body. It ingeniously increases our ability to assimilate the oxygen we normally inhale. This is how Bol d'air® helps to keep us healthy.
Breathing problems
Our ability to use oxygen from the air decreases for many reasons, including pollution, lifestyle, stress, ageing and illness. The air we breathe, even in cases of extreme pollution, contains a constant percentage of oxygen – this is around 21% – and has done for millennia. If our cells do lack oxygen, it is most likely to be a metabolic issue.
Oxygen synthesis
René Jacquier noted that even in ancient times, specific places considered to have benficial health properties were located in spruce and pine forests. From observation to experimentation, he found the answer to his question in the localised pine aromatics of the Landes region in France, thus developing the Bol d'air solution using pine resin essential oil (turpentine) to create an oxygen delivery system.
Natural oxygenation
Using Bol d'air means that the body is more efficiently oxygenated, in a simple and natural way. Cellular respiration occurs without the risk of oxidative stress due to either a deficit or excess of oxygen. Optimization in oxygenation results in superior mitochondrial function, as well as an associated increase in energy production, anti-radical defence and better oxygen bioavailability.
The Bol d'air® solution and Orésine® essential oil
The Bol d'air treats body dynamics universally by stimulating all cellular and metabolic functions. It helps to establish or restore the virtuous circle of balanced, anti-radical and anti-inflammatory oxygenation.
Bol d'air Aéro2
Simple and efficient operation
HANDSFREE APPLIANCE
Autonomous or supervised access during consultations. Users are independent and can program their sessions using a touch screen. It can be used by your family without any professional help, or by a professional throughout your treatment. To use, simply place the nose 10 cm from the apparatus and inhale as normal.
MODERN DESIGN AND A FEW MINUTES ARE ENOUGH
The adjustable inhalation corolla makes it easy to customize combinations and can be used whenever you want. 2 to 4 minutes at the beginning or at the end of a consultation, to stimulate body functions for several hours.
EASY TO MAINTAIN
All you need is either to replenish or replace the Orésine level, when the device prompts you to do so.
CREDIT PASS SYSTEM
Pass cards allow ease of financial and administrative management. Ideal for professionals who offer regular chargeable sessions, the Passes are rechargeable in units of minutes or days.
Orésine
Pinus Pinaster resin, better known as Pine of the Landes or Maritime Pine, is the essential ingredient of Orésine.
Low-pressure water vapour distillation: this process does not use chemical additives and the resin produces turpentine essential oil. It should not be confused with the industrial product that has the same name, which is produced from crushed bark mixed with chemical solvents!
This pine resin essence, rich in alpha and beta-pinenes, is used in medicine and cosmetics for its well-known benficial properties: it is antiseptic, antibacterial, antifungal and antiparasitic.
Benefit from our 30 years of experience
0
countries where the Bol d'air® is available
0
authorized Bol d'air® Centres in Europe
0
health professionals trained in the method
0
daily users who trust us
Find us on social networks: